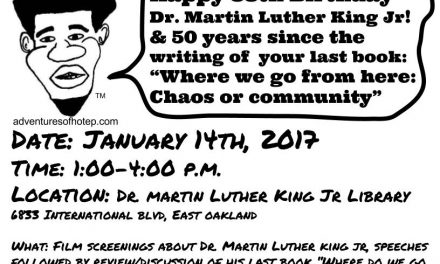 Hotep! Join Hotep on January 14th in celebrating Dr.Martin Luther King Jr's 88th birthday...
Hotep! Friends! I hope this note reaches you well… On our journey towards #Familyhood, we have come across a few events to add to a few we will be presenting 2017/2018. These events fall in alignment of #Familyhood. To...
Hotep means peace! Welcome to The Adventures of Hotep! The official journey of David N. Roach aka "Hotep's pursuit of creating peace on earth. Hotep says, "Peace in self, is where peace begins." Our vision is called
#Familyhood.
#Familyhood is an inter-generational network that utilizes schools as centers for community development. #Familyhood is driven by two main motto's: 1) The Friends of School Motto: "every school shall have a functioning Student Government Association, Parent Teacher Association and Alumni Association." 2) The Mo' Better Food Motto: "every school shall have a garden, a farmers market and a grocery store." #1stSaturdays is the "do now" strategy to begin #Familyhood in communities. #1stSaturdays defines the first Saturday of each month as the official monthly volunteer/volunteer recruitment day. Start/Join at
1stSaturdays.com
THE STRATEGY
#1STSATURDAYS
Spread Hotep in your community!
Add a Hotep T-Shirt to your wardrobe!
--------------------------------------------------------------------------------------------------------------------------------------------------------------------------------
--------------------------------------------------------------------------------------------------------------------------------------------------------------------------------